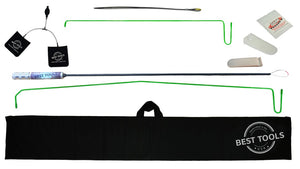 BT Deluxe Tactical Lockout Kit
This Best Tools USA Deluxe Tactical Lockout Kit includes our specially made duel inflatable air wedge and a 30" Silver Snatcher.  You can also upgrade to a 50" Silver Snatcher.
Kit includes the following: 30" Silver Snatcher, 55″ Magic Wand, 32″ Mini Wand, BT Pry, Duel Air Wedge, Super Grooved Wedge, knob knabber, Paint Protector, and a 58" Bag with handle and velcro fastener.
Replacement parts can be purchased individually at anytime.
---
We Also Recommend