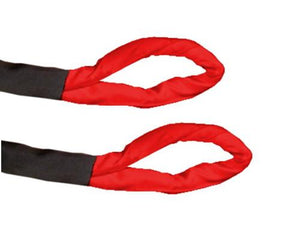 Red Eye Eye Polyester Round Sling
These Red Eye & Eye Polyester Round Slings are Made in USA with high quality materials. The outer layer is sewn into protect the body of the sling, helping to prevent wear and tear.  It has the same strength as the endless loop slings, but is designed in a straight run rather than a continuous loop.

All Slings come tagged with size and rated capacities. 
Choker Rating:
10,600 Lbs
Vertical Rating:
13,200 Lbs
Basket Rating:
26,400 Lbs
---
We Also Recommend