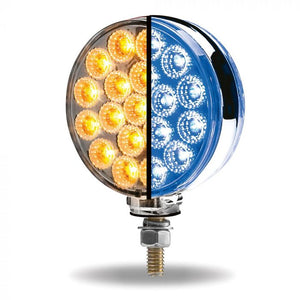 70052049 TRUX 4" Amber/Red/Blue Dual Revolution Double Face LED Light
This unique light has special LEDs that can change from one color to another color with the flick of a switch. Dual color LEDs change from amber on one side of the light, red on the other, to all blue as an auxiliary color. 
Clear lens. 38 LEDs. Single stud mount. Turn signal, marker, and auxiliary function. 4 wire. 4-3/4" dia. x 2" thick x 5-1/2" total height including stud. 3 year manufacturer's warranty.